View Our Office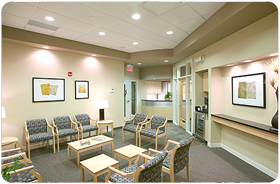 Reception Area
When we designed our new office we created a reception space that is comfortable and open. Enjoy refreshments and relax before your appointment... catch up on a People magazine while waiting for family or friends.
---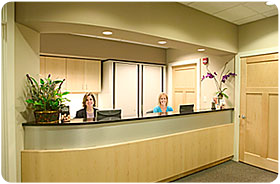 Front Desk
We are concerned about making your appointments convenient and easy. Contact us so we can find a time that fits your schedule.
---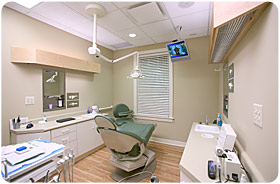 Treatment Rooms
You can feel relaxed during your appointment, secure in knowing that we use the best in modern technologies to provide you with gentle and skilled dental care.
---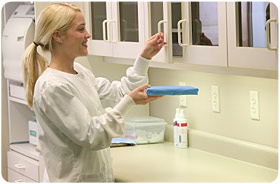 Sterilization Center
We pride ourselves in providing a clean and safe environment. Our water lines are sterilized through an in-house ultraviolet filtration system that kills bacteria. We surpass requirements for dental office disinfection. To ensure your safety, we use autoclaving (steam / pressure) sterilization techniques for our instruments and handpieces.
---
Patient Comfort
Overhead monitors with satellite television
Neck pillows and blankets
Music headphones: bring along your favorite CD
Office Technologies
Digital X-rays are faster and use 70% less radiation
Ultrasonic teeth cleanings to reduce any discomfort
Digital photography and intra-oral camera for close-ups of your teeth
DIAGNOdent (a laser cavity detection system)
Patient education with Caesy system
Location
SSE&G Professional Bldg.
26600 Detroit Road, Suite 230
Westlake, Ohio 44145
(Between Columbia & Dover Center Rd.)
PH: 440-871-8588
FX: 440-871-8355
Office Hours
Monday: 8 a.m. - 5 p.m.
Tuesday: 8 a.m. - 5 p.m.
Wednesday: 8 a.m. - 7 p.m.*
Thursday: 8 a.m. - 7 p.m.*
Friday: 8 a.m. - 1 p.m.
*Evening Hours